ACTIVE INGREDIENT
COUNTRY OF MANUFACTURER
Tibet Babao is based on an ancient Chinese medicinal formula. Its most potent ingredient, Tibetan donkey penis-kidney, has long been used as an herbal treatment for strengthening the body and concentrating a man's sperm. It is based on the Chinese belief that eating the part of the body of an animal will improve the same part of one's own body. In this case, it is the Tibetan donkey's penis as well as the deer's penis that is supposed to assist a man's penis. These two ingredients, when combined, supposedly make for a very potent herbal medicine that will combat male erectile dysfunction.
Another ingredient of Tibet Babao is for seal kidney. This particular portion of the formula serves multiple functions: it beautifies the skin, it enriches the blood, it helps with kidney deficiency, and it strengthens tendons and bones. But perhaps most importantly — and most germane to the topic at hand — is its ability to regulate the body's endocrine system. This anatomical system plays such an important role in the human body that an entire branch of medicine specifically focused on the endocrine system has sprung up in the last century. The endocrine system consists of a vast array of glands that release hormones directly into the blood. As such, it is a very important system in getting proper blood flow to the testes. When one enriches the abilities of the endocrine system, one helps the flow of blood to one's entire body.
Tibet Babao also contains gecko. And yes, that refers to the lizard.
It has been one of the most valuable Chinese medicines in the last 1,000 years. Many people believe that consuming gecko will ensure a mother delivers a baby boy and not a baby girl. It is also believed that it is a direct cure for erectile dysfunction. The gecko is consumed after the internal organs are removed, the carcass is wiped clean, unfolded, rolled out flat, and then left to dry out.
Saffron, typically used as a culinary spice, is also used in Tibet Babao for its many sexual properties. It is an aphrodisiac, it induces sweating, and it helps to stop premature ejaculation. The list of physical benefits that saffron offers goes on: it helps asthma, coughing, flatulence, depression, heartburn, and dry skin. Not to say that all these are directly involved in helping with erectile dysfunction, but they certainly don't hurt.
The last main ingredient contained in Tibet Babao is the cow testicle. In traditional Chinese medicine, many parts of the cow have been ingested for centuries for their curative properties. Cow bones and cow gallstones, for example are thought to awaken the spirit and vaporize phlegm. Cow testicles, however, are taken as a natural way to boost a person's energy level, which is always necessary for romantic encounters.
Manufacturer Reviews
Unfortunately for the Hainan Bao Yikang Biological Healthcare Products Factory, there are certain governments that strongly oppose the use and distribution of Tibet Babao. This warning comes from the Australian Government Department of Health — Therapeutic Goods Administration (TGA) website.
So far it is only the Australian government's health department that has declared Tibet Babao to be illegal. But the US Food and Drug Administration has recently convicted a man for carrying Tibet Babao because it contains small doses of the controlled substance sildenafil, which is illegal to carry without a doctor's prescription.
As far as the actual manufacturer of Tibet Babao, Hainan Bao Yikang Biological Healthcare Products Factory, almost nothing is known, aside from the fact that they manufacture Tibet Babao. They have absolutely no web presence and no digital footprints aside from the large number of Chinese export companies eager to sell the product.
Tibet Babao Pills Reviews
Customer reviews for Tibet Babao have been generally favorable and have received top product ratings.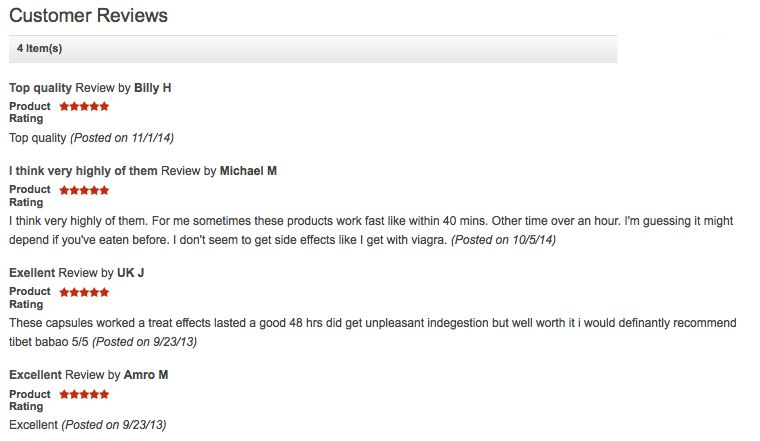 In this next batch of reviews, one customer, only one reviewer, "UK J", had a slight complaint of indigestion after using the product, yet still awarded it 5 stars out of 5.
According to these reviews, Tibet Babao seems like the real deal. But internet comments— whether they are products reviews, blog comments, forum comments, etc. — are completely anonymous and therefore impossible to verify. This is to say, take all internet customer reviews with a grain of salt.
Buy Tibet Babao Pills Online
Buying Tibet Babao is very easy. There are a number of Chinese and American wholesalers — such as Guangzhou Xuanjie Trading Co., Ltd and Big Dick's Herbal Remedies — that carry the product. Each package contains 8 capsules of 220 mg and another 8 caplets that increase sperm and penis size. One package costs roughly $7.50. Again, since these companies are mostly wholesalers, prices drop dramatically the more packages you buy. For example, if you were to buy 200 packages, the price for each package drops to $4.00. That's a savings of 47%. Of course, if one were to buy 200 packages of Tibet Babao, one can only imagine that they were going to sell Tibet Babao themselves.
How to Use
The dosage of Tibet Babao is 1 capsule of 220 mg along with 1 of the caplets designed to increase sperm and penis size. These are meant to be taken at the same time, roughly 30 to 40 minutes before intercourse.
Side Effects
It is very important that one does not overdose on Tibet Babao. Only one dosage should be taken in a given 48 hour period. There is the possibility of an erection lasting a long time without ejaculation, in which case it is advised to drink cold boiled water in order to dissolve the capsule.
In little people, there have been reported side effects of headaches and flushing of the face.
Editor's Rating
While Tibet Babao may very well enhance a man's sexual performance, the fact that the Australian government has declared it illegal and the US FDA has begun convicting people in possession of it, extreme caution should be used if one is interested in buying it. For these reasons, as well as being manufactured in China by a mystery company about which nothing can be found, we rate Tibet Babao 0.5 stars out of 5.