ACTIVE INGREDIENT
MANUFACTURER
COUNTRY OF MANUFACTURER
Stiff Days Male Sexual Stimulant Pills are sexual supplements which claim to increase libido, gain a better and harder erection, have increased performance for up to seventy two hours and enjoy sexual experiences. The product claims to start working in a time period as short as thirty minutes from consumption. It also provides for an almost instantaneous recovery time for erections.
The product is herbal and is suitable for use by all males except for ones who are on medications for blood pressure. Stiff Days Pills also have a long effect of up to seventy two hours and thus need not be consumed every day. While results may vary across individuals, the company provides a guarantee that all capsules and 100% tested and checked to be free from defects. The company also provides a full refund policy within thirty days of purchase of the product.
Stiff Days contains a number of ingredients, most of which are oriental herbs and have known aphrodisiac properties. All the ingredients are listed on the company's website.
However, there is little information on many of ingredients and most of them are unknown or unfamiliar.
Some of the ingredients only serve towards promoting better health and energy.
Some of the known components and the sexual benefits that they provide include:
L-Arginine Amino Acids: These acids are free form and are proven to help increase blood flow to the tissues of the penis.
Tongkat Ali: Increases testosterone levels in men.
Gingko Leaf: Improves stamina and energy.
Yi Ye Cao: Herb which stimulates the ejaculation process.
Rou Gui: This is the Chinese name for cinnamon bark extracts and helps in increasing sexual energy and fights lethargy.
Cayenne: These Indian peppers dilate the blood vessels and are used for prolonging the duration of erections.
The StiffDays.com official website has some information related to the product and can also be purchased right there. There is a thirty day money back guarantee and shipping is also free. One bottle of Stiff Days Pills contains six capsules and costs $17.95. Purchasing the product in bulk allows customers to save some money and for bigger orders, capsules come as cheap as $1.5 apiece. For the number of benefits that it boasts and the fact that it is an all-herbal product, the price makes it something worth trying out.
Stiff Days Pills Reviews
There are a number of user reviews on the Stiff Days website. Most of these are positive reviews and these customers seem to be satisfied with their purchases.
One such satisfied customer left this testimonial.
Another customer who reviewed this product positively.
Above is a useful critical review that we came across.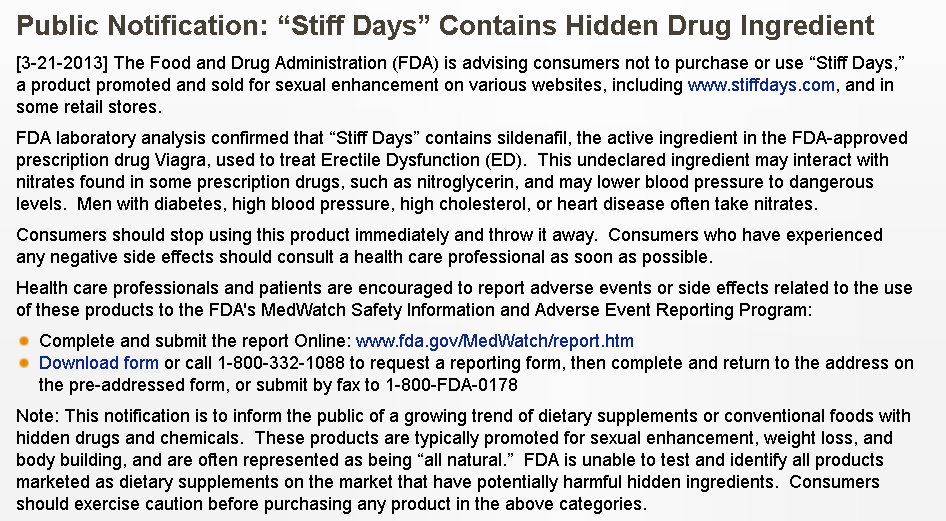 The FDA issued a notice in public in March 2013, which reported that Stiff Days Pills contained a hidden ingredient, sildenafil. This undeclared component can potentially lower the blood pressure levels in males to a dangerous level. Owing to this, the FDA has urged people not to opt for this product. Above is an extract from the press release.
While the FDA has only issued a notice, many people still look to purchase the product as these pills are incredibly cheap and user testimonials prove them to be quite effective in sexual enhancement as well.
Protected by a money back guarantee and requiring no commitment, Stiff Days does look to be an attractive buy. It is affordably priced as well and there are little known side effects as it is herbal. However, the undisclosed component and the FDA notice does pose some serious questions as to how reliable the product really is. Many of the declared ingredients are also unknown and unfamiliar and no clinical study data has been provided. Information on the manufacturing company is also quite limited.
Buy Stiff Days Online
These enhancement capsules can be bought directly off the Stiff Days website. Capsules are available at different packages with varying rates. These include:
– 6 capsules at $19.95
– 10 capsules at $24.95
– 20 capsules at $38.95
– 30 capsules at $54.95
– 40 capsules at $66.95
– 50 capsules at $77.95
– 100 capsules at $147.95
Buying in bulk brings down the cost dramatically to less than $1.5 per capsule.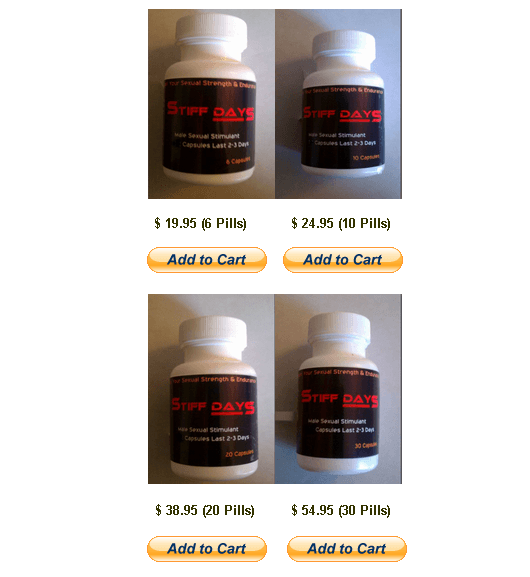 How to Use Stiff Days
The recommended dosage of Stiff Days capsules is one to two pills thirty minutes prior to any sexual activity. It is also recommended to take these on an empty stomach. The effects of consuming Stiff Days Pills last for up to 72 hours and thus, these pills need not be taken every single day.
Side Effects of Stiff Days
There are little known side effects to the declared ingredients of Stiff Days Pills. However, these capsules also contain the compound sildenafil which can cause potentially life threatening problems to those suffering from blood pressure problems.
Also, many of the ingredients of Stiff Days are unknown and unheard of. There could potentially be a number of side effects arising out of these components.
Editor's Rating
Stiff Days seems to be a popular product amongst the people who have tried it. It is a herbal product and has proven to improve the sexual experiences of many males. However, regarding the FDA notice of the undeclared ingredient, the product loses quite a lot of its credibility. Many ingredients are unheard of and information on the manufacturer is also quite limited. However, these pills are offered at a really attractive price and given the number of positive experiences that people have had with this, they do seem worth trying. However, blood pressure patients must refrain from using these pills. Based on all the information provided by the company, the FDA public notice urging people not to try the product, on the available user and customer reviews and also considering the incredibly affordable price, Stiff Days Sexual Stimulant Pills receive a 2 star rating out of 5 stars.