ACTIVE INGREDIENT
MANUFACTURER
COUNTRY OF MANUFACTURER
Are you experiencing weak erections? Are you low on Stamina when it comes to Sex? Do you want more endurance in bed? Are you disappointed in your performance in bed? Those days are about to come to an end.
Cyvita LLC presents Cyvita, a male enhancement that helps you to get rid of your problems once and for all. Cyvita promises you a harder, stronger and long lasting erection. It will revitalize your sexual stamina and increase your sexual performance like never before. You will never have a problem to achieve an erection ever again.
Ingredients
The ingredients in Cyvita help to increase your sexual desire and sexual performance. The key ingredients that have been used are Acetyl-L-Carnitine, Glycine Priprionyl-L-Carnitine and Epimedium.
Acetyl-L-Carnitine is another form of the amino acid L-Carnitine. L-Carnitine is produced naturally in our bodies. It helps to increase sperm production and their mobility in men. Acetyl-L-Carnitine also helps in fat loss and prevents brain cells from damage.
Glycine priprionyl-L-Carnitine helps to increase the nitrate levels in blood which leads to increased blood circulation. More blood means harder and longer lasting erections. Moreover, Glycine priprionyl-L-Carnitine is known to increase sexual performance and when used together with Viagra it is said to enhance its affect.
Epimedium is also known as Horny Goat Weed. This herb helps to cure erectile dysfunction without causing any side effects.
In the official website for Cyvita, it is mentioned that the drug is backed by many clinical studies. It is claimed that the product is highly effective and safe to use. However, no clinical studies were listed in the website. There isn't any credible research online either.
Two researches were found which were also mentioned in the commercials of Cyvita. One of the researches was supposedly posted in the medical Journal of Adult Urology. The problem is however, no such journal exists. The second research was conducted to prove that Cartanine worked better with Viagra. The results of the research were a success but again this research was not conducted directly on the entire formula of Cyvita, rather just on a single active ingredient.
The product is produced by a company named Cyvita LLC. It is an US based company. The company has received a large number of complaints against it. On a website called the Scambook there are 46 complaints about the company, almost all related to billing problems. The company has also received a D rating from Better Business Bureau.
The company seems to be very untrustworthy and seems to be billing customer even after they cancelled their orders.
Cyvita Male Enhancement Reviews
The number of customer testimonials available online for this product is very high. Most of the reviews are really negative. The reviews are mostly about billing issues. They talk about how the company keeps on sending products even after orders were cancelled. Many people even complained that they called the company and were promised refunds but even after a prolonged period of time they haven't received them. Other reviews state that the product was really ineffective. The product caused no change in erection whatsoever. Many men complained that the product didn't have any effect at all.
Above are some of the customer reviews for Cyvita.
Another customer review complained about how misleading Cyvita really is. He talks about what problems he faced when he ordered the product.
There were more testimonials available of the same kind. Very few people have actually praised the product. Most people are calling the product a scam and are still trying to receive refunds.
Buy Cyvita Online
The product can only be bought from the official website of Cyvita. If you order the product you have to pay $9.95 for a 1 week supply. This will get you another week supply for free (you have to pay to get the free trial). You have 12 days to test the product and cancel your order or else you will be sent a 30 day supply of Cyvita for $59.40 according to their auto ship program. In order to cancel your order you have to call 1-800-968-1387.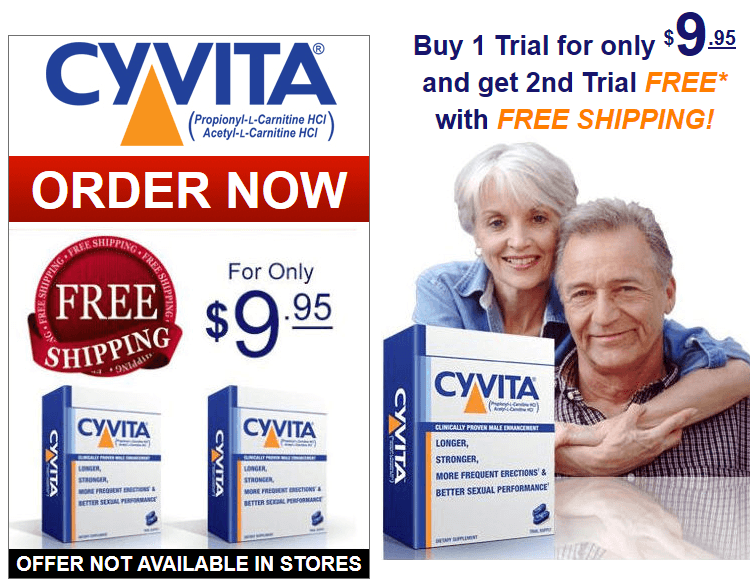 How to Use Cyvita
The dosage of Cyvita is to take 3 to 6 capsules per day with a glass of cold water. Each bottle contains 90 capsules, so if you take 3 capsules per day it will last for 30 days. The manufacturer of the product recommends taking 6 capsules per day.
Side Effects of Cyvita
Quite a few side effects of using the product have been reported. These include diarrhea, nausea, skin rash, agitation, increased appetite and unpleasant body odor. The ingredients used in Cyvita have also been known to cause a lot of the side effects mentioned above. Acetyl-L-Carnitine is known to cause nausea, diarrhea, skin rash, agitation. Glycine priprionyl-L-Carnitine is known to cause nausea, stomach pain, vomiting, chest-pain, and weakness. Since this product causes a lot of side effects it is very unsafe to use.
It is always wise to consult a doctor or physician before taking any prescription medication. Moreover, since this product is more likely to cause side effects it should not be taken without the advice of your physician.
Editor's Rating
Cyvita is a male enhancement product which is highly questionable. Although it promises to enhance erections in male, many customer reviews have proven otherwise. Moreover the free trial system of the product is very peculiar and it seems to be tricking people into buying the product. People have to pay in order to get the free trial and then the customers are continuously billed even after cancellation of orders. The company has received a lot of complaints and is rated as a D rated company by the BBB. The clinical studies which were conducted on the product have no proof. After considering all this negative information it is clear that Cyvita is nothing more than just a Scam which is trying to make money through the free trial system. Cyvita receives a 1 Star out of a 5 Star rating.