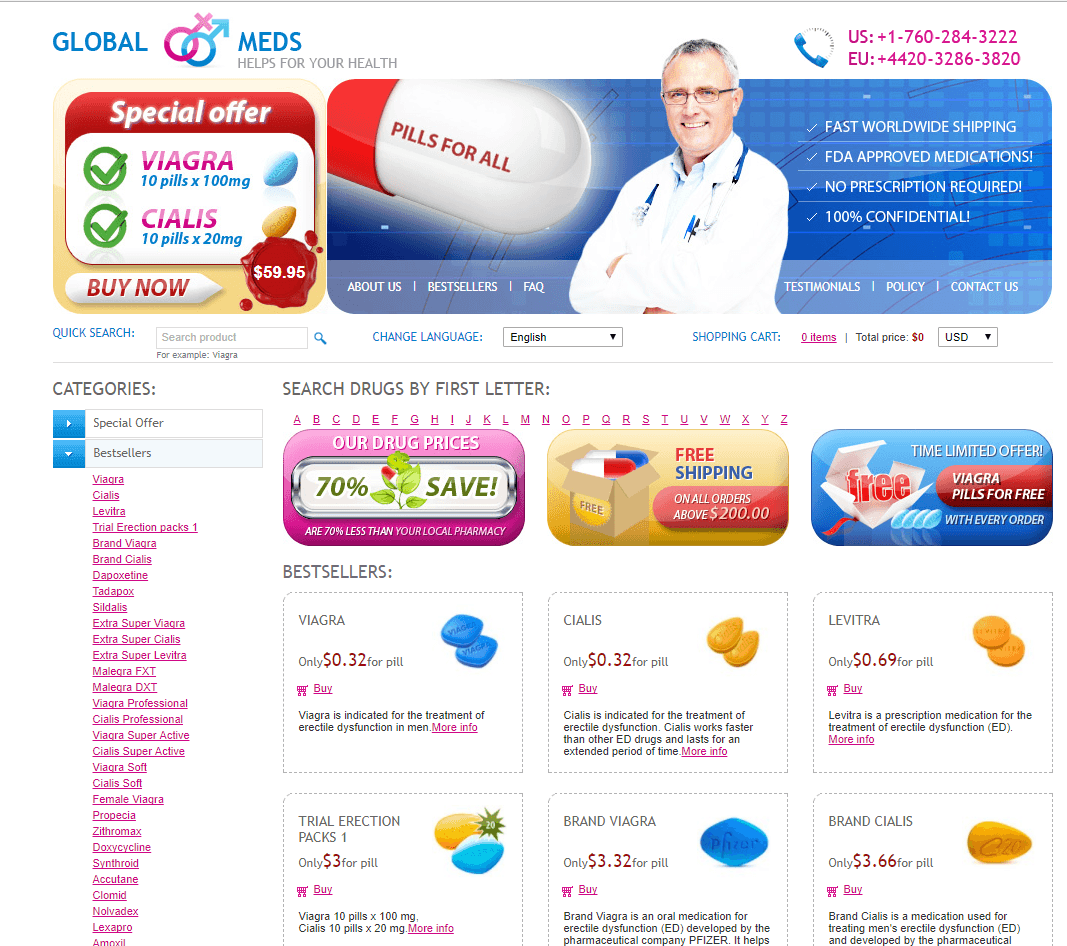 Most online pharmacies I encounter on the web exhibit similarities with other online pharmacy domains. One such store with web look-alikes is Contact-eucustomer.com, which also goes by the name of Global Meds. Global Meds or Contact Eucustomer has an identical template with another store I previously reviewed, so upon first seeing this store, I thought I was transported back to the other shop I was formerly reviewing.
It bothers me that the store's name, Global Meds, is not the same as its domain (Contact-eucustomer.com). There is no clear reason why, but it appears that some online drugstores have different domain and store names. The shop's copyright is dated 2004, which indicates its probable date of inception, but the shop had no mentions for its location. However, Contact-eucustomer.com has alleged memberships to CIPA, MIPA, and CPA, which are all organizations for pharmacies located in Canada.
Based on the information presented on Contact-eucustomer.com, its products are all sourced from FDA-accredited manufacturers and therefore are also FDA approved. Both brand-name and generic products are accessible in the store, and the shop allows the buyers to avail of the medications without prescriptions, regardless of their Rx status. However, Contact Eucustomer reiterates the need for the patients to consult their doctors, especially when taking new medications.
Products on Contact-eucustomer.com include the conventional products found at other virtual drug dispensaries. Contact-eucustomer offers products for fungal infections, depression, weight loss, skincare, hair loss, erectile dysfunction, gastrointestinal problems, women's health, and others. Contact-eucustomer.com also has herbal products, if buyers decide to opt for more natural alternatives for their medical conditions.
Amongst all the meds advertised by the store, the products for erectile dysfunction take center stage. I don't know what's with online pharmacies and ED meds—these meds are the ones most advertised by online shops. Brand-name products for impotence are accessible in the shop, but Contact-eucustomer also provided generic alternatives for consumers wanting to cut costs for their medications. Generic Viagra 100 mg is sold by the store for $3.33 per tablet or $33.25 for a set of 10, and the store sells generic Cialis 20 mg for $3.26 per tablet or $32.59 for a set of 10. Contact Eucustomer offers ED meds in various dosage strengths and various quantities, and buyers can opt for any of the choices in the store depending on their perceived need for the medications.
Postage charged by the store is roughly $10 for Airmail or the regular shipping option which takes about 21 business days. Buyers can still opt for a faster courier option, but the shop does not say how much it charges for the Express option. When it comes to payments, Contact-eucustomer.com can pay using E-cheques and credit cards (VISA and AMEX).
No policies for ravaged orders or lost items are discussed on the store. However, the shop reassures consumers that they will receive their parcels from Contact-eucustomer.com. For other inquiries, you may use the email function in the store, as well as its numbers. No live chat support is accessible, so you'll be assisted via email or phone.
Contact-eucustomer.com Reviews
Customer reviews are abundant on Contact-eucustomer.com, but since these commendations were only posted on-site, I can't be too sure about these comments' integrity.
Also, since I've seen the same template in other online pharmacies, it is also significant that the comments on Contact-eucustomer.com were also identical with the buyer comments I've witnessed in similar sites. The uniform comments may be a standard in shops with analogous templates, but being a buyer, I am scared off by the fact that this shop does not have its own comments. If this was indeed a real, functional store, I would've found numerous comments for its service from third-party review sites, or even on social media platforms.
Contact-eucustomer.com Reviews 2016
I've searched for buyer feedbacks for the shop on possible platforms carrying reviews for the web pharmacy, but I found no web mentions and feedbacks for the store for the present year.
Instead of finding reviews for the store, I went on to check Contact-eucustomer's status on various platforms, such as Scamner. Scamner's report on Contact-eucustomer.com was not too good—the shop was given a 0/100 score because its owner used a free technical email (which was considered unprofessional), it does not have its own SSL/security certificate, its domain registry was nearly expired, and it was missing trust records, indicating that the shop is new.
Scam Adviser result for Contact-eucustomer.com is also unpleasant, and the shop was identified as a site operating out of a high-risk country.
Although the store is given a good score (67/100), it is still considered an unsafe store due to its domain issues. Also, it is odd that the store is identified as an offline site when clearly the shop is still up and running.
Contact-eucustomer.com Coupon Codes
As for buyer deals on Contact Eucustomer, buyers can avail of free pills on every order—there's no need for a certain order amount to avail of the freebies from the store.
Consumers are also given free shipping if their orders exceed $200 but via regular shipping alone.
Editor's Rating
Contact-eucustomer.com is another web store with a template similar to several online shops I've recently been to. This web pharmacy has the same reviews with its website parallels, indicating that the comments published by Contact Eucustomer are all phony. Even if I appreciate the store prices for the products for impotence, I will not be suggesting the use of this store to other consumers because of its riskiness. You're better off with other online stores, so it's time to look for other web stores to get your meds. My rating: 1 out of 5.