ACTIVE INGREDIENT
MANUFACTURER
COUNTRY OF MANUFACTURER
The adverting methods of Code Red 7 are unique and whenever you see/listen to the experiences of persons in ads, you will feel that those experiences ads are true. The manufacturers succeeded in creating enough enthusiasm and you can see lot of questions enquiring the availability of the product.
There is an interesting story behind the name of Code Red 7. The 7 in the title represents that the results will be shown in less than 7 minutes. In the official website, manufacturers claim that it is the quickest male enhancing product. Even in the market also, products which claim results within half an hour or hour are available. It is rare to see the products which claim results within minutes.
The manufacturers claim that it is very effective and quick in working. Money back guarantee option is very common these days as almost all the manufactures are offering that option to their users. However, Code Red 7 didn't say a word on this feature.
The manufacturer claims that these capsules are very effective and help you in getting rock hard erections.
Though the claims seem to be possible, lack of scientific or medical proof to show the working of this product raises so many doubts in the minds of users.
Let's have a look at the ingredients used in the preparation of this pill and their effects:
Eurycoma Longifolia: It is a flowering plant and some tribes in Indonesia still believe that this one is capable of increasing the male potency.
Lycium fruit extracts: This fruit is very rich in antioxidants and very effective in increasing the overall metabolism of the body. So you will feel more energetic than ever.
Deer Antler: According to researchers, deer antlers have direct relation with their mating patterns. But the usage of deer antlers is relatively new in male enhancement pills and detailed research needs to be done to study its effects on men.
Epimedium Sagittatum: Popularly known as horny goat weed, this one is commonly used in male enhancement products. It significantly increases the NO levels in blood so that the blood flow to genital area will increase. This will result in more firm and harder erections.
Dong Quai: It is popularly known as female ginseng and it is native to china. It increases the blood flow and this was used to do abortions in the 17-19th centuries as excessive intake of this drug can lead to miscarriage in pregnant women.
The manufacture of this product, Muscle Meds has strong reputation in the body building supplements category. They entered into the male enhancement category with huge expectations but failed to reach those expectations. Frankly, no company got success in showing significant effects within few minutes. The company stopped manufacturing this supplement and the official website itself recommends products other than this one. This raises so many doubts on the validity of this product.
Code Red 7 Pill Reviews
The curiosity among the men increased a lot as this product promoted itself as a quickest supplement to deliver results. However if failed drastically to achieve the results advertised and several users passed negatively comments on it. Above is the experience of some users.
Buy Code Red 7 Online
The manufacturer Muscle Meds stopped this product but if you are keen on using this product you can buy these capsules form the third party retails and several retailers are offering this pill online. One needs to pay close to $44.75 (+ shipping charges) to get this product. Each bottle consists of 10 tablets and based on you usage this pack can last for 15 days to three months.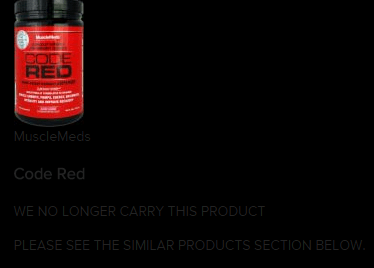 How to Use Code Red 7
You should not use Code Red 7 capsules daily as they are designed to get instant erection. You just need to take a capsule just an hour before the session and within no time you will observe significant results (long and rock hard erections) as per the company claims.
If you didn't observe any significant changes, take two capsules in a serving. A minimum of 32 hours gap is must in-between two servings. If you observe any changes even after using this product three to four times, it is better to stop the usage of this product.
If you are suffering from health problems like diabetes, blood pressure, heart or nerves related disorders this product is not for you. If you are using any other medications, consult your doctor once before suing this product. This product is intended for healthy men only and this should be kept out of reach of children. Women should not use this product.
Code Red 7 Side Effects
The side effects observed after using the pill is very long and you need to be very careful and cautions while using these pills. Most of the users reported headache and vomiting sensation after using this product. Other complex side effects include stomachache, increased blood pressure, irregular heart beating etc.
Though these side effects are common and are observed after using all the male enhancement pills, this severity of the side effects observed after using this product is very high and most of the users discontinued this product because of side effects only.
Editor's Rating
The positive aspects of this product are its availability, easy to use nature, quick and effective results. The concerns of users list is so long and it include price, unavailability, lack of authenticated information about the manufacturer and his reliability, side effects, scam rumors etc. Finally, on a rating of five, this product can score 2.