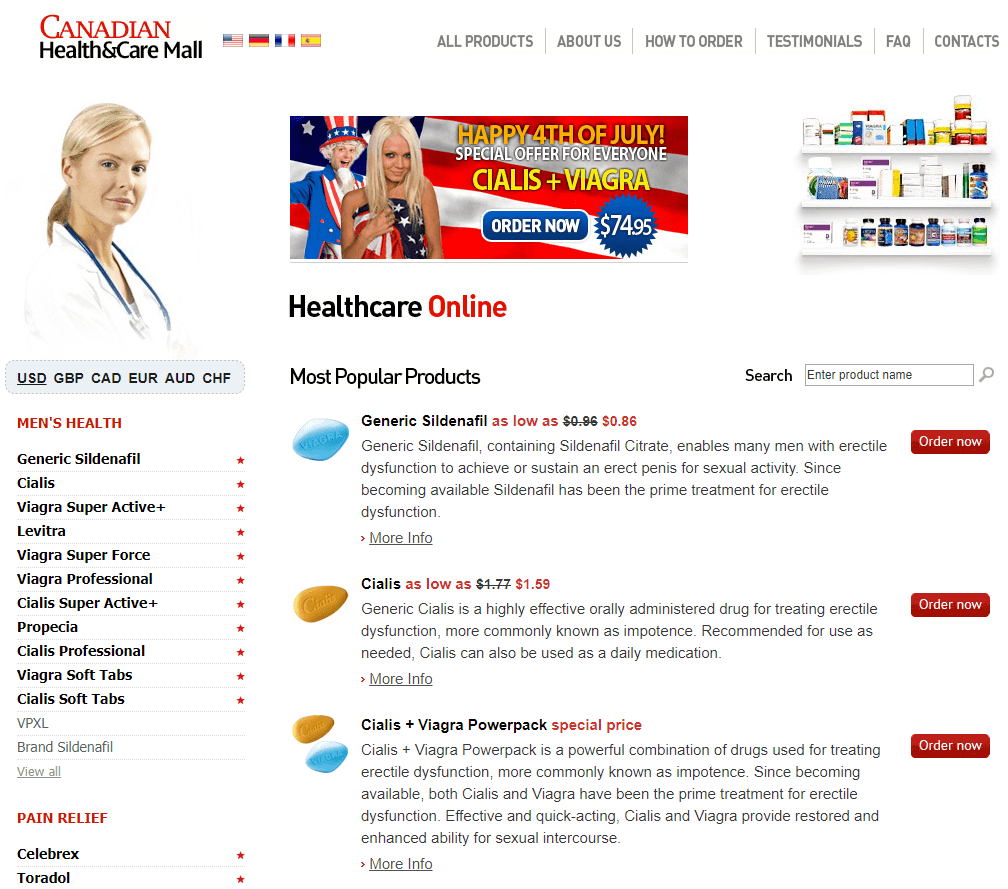 Canadianhealthcaremall.net is one of a dozen of online drug pharmacies in the competitive market of online pharmacy stores. I happened to stumble upon it and interacted with canadianhealthcaremall.net and support staff. It is rather unique in its congested marketplace. What caught my eye was the simplistic nature of canadianhealthcaremall. It caught my attention: the simplistic nature of this website makes it very user-friendly and easy to interact with. The left-side menu contains the drugs categories. There is a photo of dramatic, patriotic characters emblazoned with the American flag probably to draw upon the American audience. The overall feel of this site is cool, welcoming and not pushy.
CanadianHealthCareMall has its roots in the early nineties as a multi-store based in Toronto and Ottawa before it established its online presence in 2000-2005. The site sells itself as Canadian but as has been the norm, some firms falsify their location probably to win credibility to a certain country's citizens it perceives to be good for business. On further investigation on scamadviser, I unearthed that the site is based in the US but could be from Russia. Therefore, the Canadian name is a front.
Moving on, the store accepts only Credit Cards (Visa or MasterCard) or echeck. It also claims to do shipping to all countries in the world using air transport. The store does not sell any narcotic and controlled substances such as tranquilizers. After confirming your request, the package arrives promptly with some deliveries taking as fast as 3 days according to some reviews on Canadian HealthCare Mall. I didn't come across the company's reshipping and refunds policy in my research.
It is not entirely clear whether the drugs are FDA-approved or not. However, the website states that it is licensed by the College of Pharmacists of Ontario. This is meant to build credibility. CanadianHealthCareMall.net says nothing about the safety of its products, not even where they get their drugs from, only an ambiguous "working with largest pharmaceutical manufacturers and distributors of the world." I looked more carefully through their products, and they have categories like men's health, asthma, antibiotics, mental health, stop smoking, pets, anxiety among others. Among numerous ED drugs, Viagra Super Force goes for $4.25, Cialis Super Active+ costs $2.99, and Levitra goes for $2.02.
This online drugstore does not provide any live chat or phone call support but email support using web form.
Canadianhealthcaremall.net Reviews
Granted, I was now highly skeptical of the company; I was eager to know whether there are any reviews of its service on the internet. Notwithstanding, there are reviews on the CanadianHealthCareMall.net webpage. It came as no surprise that the non-independent reviews are skewed to give the company a positive image.
One of the independent review websites is complaintsboard.com. Carl Kern, from the US, complained that he was sent "someone else's order." His complaints were turned down. They finally caved and sent part of the order but never really finished sending the order.
Another reviewer by the username gnny51 from Ontario claims that canadianhealthcaremall.net "hacked into my email." The fact that they can hack into someone's email is quite scary.
Canadianhealthcaremall.net Reviews 2017
In the absence of recent client reviews, I read reviews about the canadianhealthcaremall.net made by independent scam busting sites.
Legitscript.com reviewed the authenticity of Canadian HealthCare Mall and established that it did not meet its criteria of internet pharmacy standards and branded it rogue based on its metrics.
Scamadviser.com gives canadianhealthcaremall.net a
low trust rating
. Scamadviser.com insists that canadianhealthcaremall.net has very low traffic. 41 users reviewed canadianhealthcaremall.net and they labeled it a high-risk website on the High risk – safe scale.
Canadianhealthcaremall.net, as claimed by Scamadviser.com, is based in the US but is probably rooted in Russia. You can't help but think that this is one of the many hacking drives posing as an online pharmacy but with the main aim of obtaining information from unsuspecting citizens from the target countries.
Canadianhealthcaremall.net Coupon Codes
CanadianHealthCareMall offers 4 free bonus pills for all orders. This sounds too good to be true because suppose I make the smallest order available, will they still offer me a similar bonus to the one who orders the most expensive pill? Perhaps it is viable but still, leaves a lot to be desired. They also offer free regular airmail for orders above $150.
Canadian HealthCare Mall Mall offers free express courier services for orders above $300 for US customers only.
It is clear that the US customers are the main target and it is interesting to know that it is for orders that take 8-14 days. This means that the company does free shipping for such customers in the US for orders above $300. CanadianHealthCareMall.net guarantees reshipment if a delivery falls through for all orders above $200. This means that if for whatever reason, your order doesn't arrive but it was worth, say $210, you get a free reshipment of the order.
Editor's Rating
CanadianHealthCareMall.net has some wonderful offers and promises, but there are looming questions that are left unanswered. I am skeptical of canadianhealthcaremall because it poses as a Canadian firm with deep roots in Canada running as deep as the early nineties before the internet boom. This suspicion is confirmed when I established that it is based in the US despite the affirmations that it even has a physical store in Canada named CanadianHealthCareMall.net. It is also very suspicious that the online version of the physical store it claims to be associated with run separately. The drugs are not all FDA approved so that also raises red flags. The fact that they 'hacked' a customer's email is quite scary. Who would willingly provide them with an email only for them to hack it and use it to send spammy, probably marketing messages to their contacts. There are positive reviews ONLY on Canadian Health Care Mall. This is not ideal since no single service satisfies all its customers fully. The independent reviews discourage anyone from ever associating themselves with the pharmacy, and the low rate of visits raises another red flag. If I wanted to buy ED pills, I'd look elsewhere. I give Canadianhealtcaremall.net a 1 out of 5.