Ajanta Pharmacy is a speciality pharmaceutical company, which was founded in India in 1973. It is engaged in the development, production and marketing of medicines both in India and abroad, with a focus on providing quality at affordable prices. Their products are sold in over 40 countries (including countries in Asia, Africa and Latin and North America) and it has 5 operating facilities, which produce "high quality pharmaceutical products".
Their specialities include anti-malarial, cardiovascular, dermatology, male-erectile dysfunction, musculoskeletal and ophthalmology. In India, the company has a particular focus on fast-growing therapeutic segments of cardiovascular, dermatology, ophthalmology and musculoskeletal areas with many of their brands holding leadership positions in the segment they occupy.
The firm has an advanced R&D centre for active pharmaceutical ingredients (API) synthesis, which employees over 300 scientists across the world. The company has been growing fast The company is present on both the Bombay and New York stock exchanges.
Mission: "To serve global healthcare needs through empathy, innovation and technology. We believe that to ensure sustained growth, we need to clearly understand our customer's needs and use cutting edge technology to present innovative solutions."
Philosophy: The company philosophy – from the same location as its mission – states that they believe in "the art of first creating opportunities and them optimizing them to the fullest."
— Source
Board of Directors:
Mannalal Agrawal: Chairman.
Purushottam Agrawal: Vice-Chairman.
Madhudusan Agrawal: Vice-Chairman.
Yogesh Agrawal: Managing Director.
Rajesh Agrawal: Joint Managing Director.
Chandrakant Khetan: Non-executive, Independent Director.
K.H. Vishwanathan: Non-executive, Independent Director.
Anil Kumar: Non-executive, Independent Director.
Prabhakar Dalal: Additional director.
Anjana Grewal: Additional director.
Contacts:
Website: Ajantapharma.com
E-mail: [email protected], [email protected]
Phone: +91 22 6606 1000
Fax: +91 22 6606 1200/1300
Pending Lawsuits
It would appear from research that Ajanta Pharma has no pending lawsuits. There is also no evidence of previous, expired lawsuits against the company.
Presence on Alibaba
There is only one product from Ajanta Pharma on Alibaba.com. This is Sildenafil Citrate (Kamagra) in 100mg form.
Available vacancies and level of salaries paid
Glassdoor.com lists the salary ranges of 4 different careers at Ajanta pharma:
Medical Rep – monthly salary of 9,000 – 31,000 rupees.
Production – annual salary of 154,000 rupees.
Regional sales manager – annual salary of 550,000 rupees.
Management – annual salary of 600,000 rupees.
— Source
Employees' reviews for the company
The employers review website Glassdoor.com features 13 reviews of Ajanta Pharma and has an average score of 3.8/5.0. Of these 13, 100% would recommend Ajanta Pharma as a workplace to a friend.
Positive comments include:
"Good culture and work-life balance. Being a mid-segment company, growth opportunities are huge."
"Absolutely best pharma company for career growth."
"Work friendly environment. Helping seniors."
"Options to exercise your creativity."
Negative comments include:
"Conservative, moderately skilled people, no place for your thoughts, paid average."
"You have to work your heart out to get a visible incentive."
"The payment structure is not comforting."
— Source
Ajanta Pharma on Social Media
Ajanta Pharma has a Facebook page that appears to have been organized by a third party. Nevertheless, the page has 820 likes. There also appear to be a few closed groups arranged by Ajanta Pharma employees on the same site.
The company has a Twitter account, which is updated on a regular basis. However, the account only has 55 followers.
The company has a good presence on youtube, mainly through interviews on business channels with its management team. These videos typically have less than 200 views each but the content is generally very favourable towards Ajanta pharmacy. Among the videos is also a feature presentation created by E&Y (Ernst and Young), where Ajanta Pharma are presented as finalists for the Indian Entrepreneurs of the Year, 2013.
The firm has over 1,600 members present on linkedin and 4,287 followers.
Ajanta Pharma in the News
Ajanta Pharma has limited, but positive coverage in western media outlets. For example, despite being a pharmaceutical firm listed on the NASDAQ, the firm has no coverage on the Financial Times.
Most of the coverage occurs through Indian business news outlets. A brief summary of the recent coverage follows:
The latest story, provided by CNBC – a reputable western news source – nots that Ajanta Pharma's first quarter results are up 80% on the previous quarter.
In response to the above piece of news about an 80% rise in profits, this article notes that Ajanta Pharma's price tumbled on the stock market – an indication of a stock for whom the expectations are very high, clearly.
— September 23th, 2014. Business Standard.
Again from CNBC, this article mentions some stock picks of a popular financial analyst. The article states, "on specific stocks, he is betting on pharmaceutical stocks and is betting on Ajanta Pharma…"
Ajanta Pharma and Regulatory Approval
Given its large exports (anywhere between 55% and 65%, depending on the source of information), it is clear that Ajanta Pharma has cleared regulatory approval in several international markets. The company has a Drug Regulatory Affairs (DRA) team, which is constantly working on product registrations in various markets. For this, it has developed an "in-depth understanding of the regulatory framework" in these countries, and "built excellent regulatory filing capabilities."
The firm has regulatory clearance in the USA, the UK, the EU and from the WHO.
Ajanta Pharma Product Reviews
Most of the reviews surrounding Ajanta Pharma products are for Vamagra – its generic Viagra product. It seems that these male erectile drugs attract the most reviews as their "performance" can more easily be measured, than say, a dosage made for heart problems. In addition, the audience is likely to be young and male – the most active population online. Some of the reviews follow:
This site claims to "investigate product reliability."
Of Kamagra, it says that Kamagra, is a "slightly dumbed down version of Viagra." To the question, "is Kamagra a scam?," it answers, "this depends who you ask the question of." After listing several side-effects of Kamagra, it goes on to say, "you should definitely look elsewhere to get real male enhancement."
Our opinion is that this site seems a little too anti-Kamagra to be objective. It would come as no surprise is this blog was being funded by other generic drug manufacturers.
This site is probably the exact opposite to the above site – too many of the reviews are overly positive for it to be considered.
Yahoo! Finance
Being listed on both NASDAQ and the Mumbai stock exchange means that unlike many generic drug firms, Ajanta pharmacy is well-covered by Yahoo! Finance. Over a five-year period, the growth on NASDAQ has been quite impressive (see below) and speaks to a company which is very well-thought of in financial circles.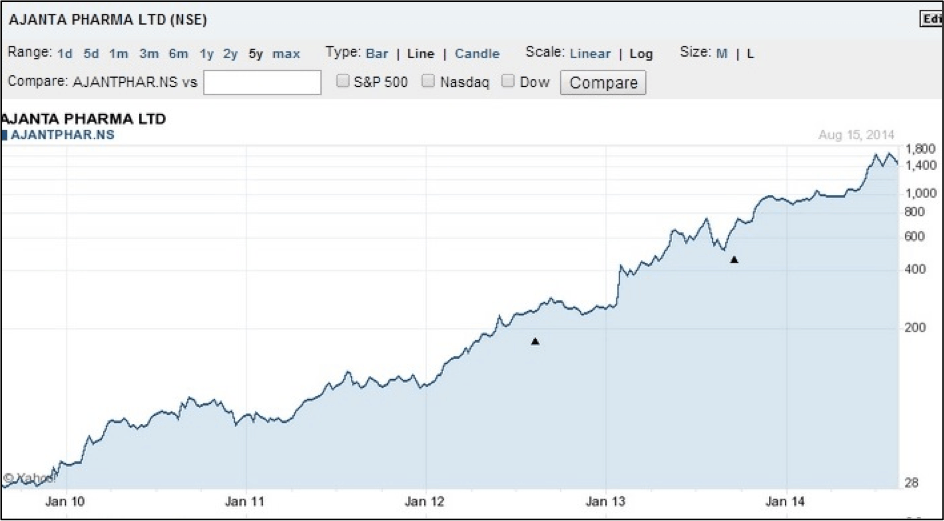 Editor's Rating
The company gets a rating of 5 out of 5. There is no reason not to trust its products based on the information obtained. It even has a listing on NASDAQ, meaning that it operates with strict terms of corporate governance. The firm has no pending lawsuits nor lawsuits that have previously been raised, which suggests that they are above board for the most part. In addition, it has recognized the potential of both R&D and the American generic drugs market to the future of the firm. This would appear to speak for the credibility of the company and its long-term presence. One slight concern is the number of family members on the board. This may hinder progress for the firm in the future, although so far it seems to be working. The next few years will tell a lot as the original (family) members of the team get older and new (non-family) members come on board.